This article will teach you how to add a VPAID Tag to your ad unit. The VPAID Tag Component can be added to any type of Format.
In the Builder, Create a New File - any size, any format.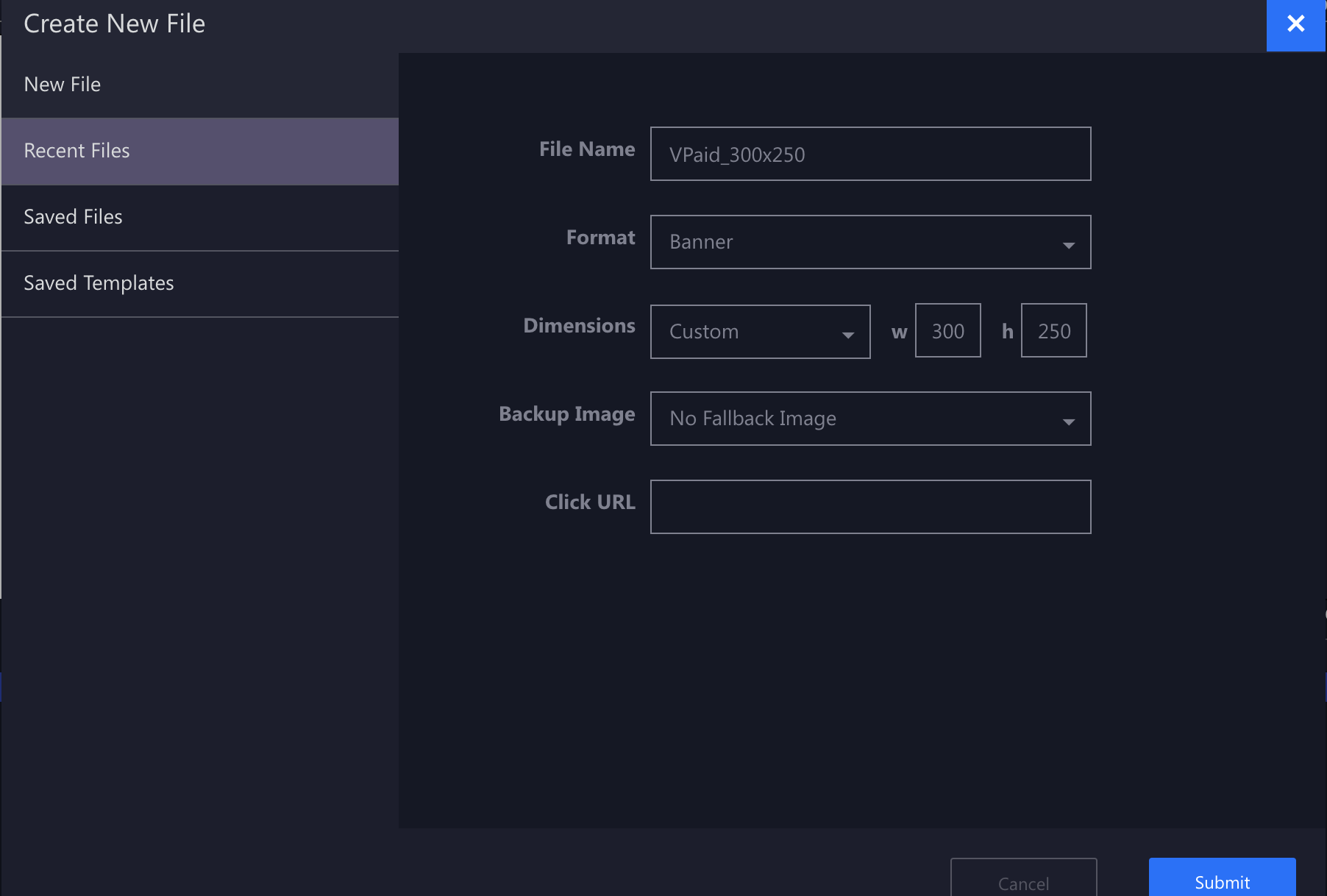 Click Submit.
A blank Screen 1 canvas will show. Select the Components icon

in the Tool Section (left side of Builder) and a dropdown will show.
Select VPAID Tag:

A white 300x250 placeholder will appear on the canvas and "VPAID Tag" layer created (at bottom of builder in Screens and Layers).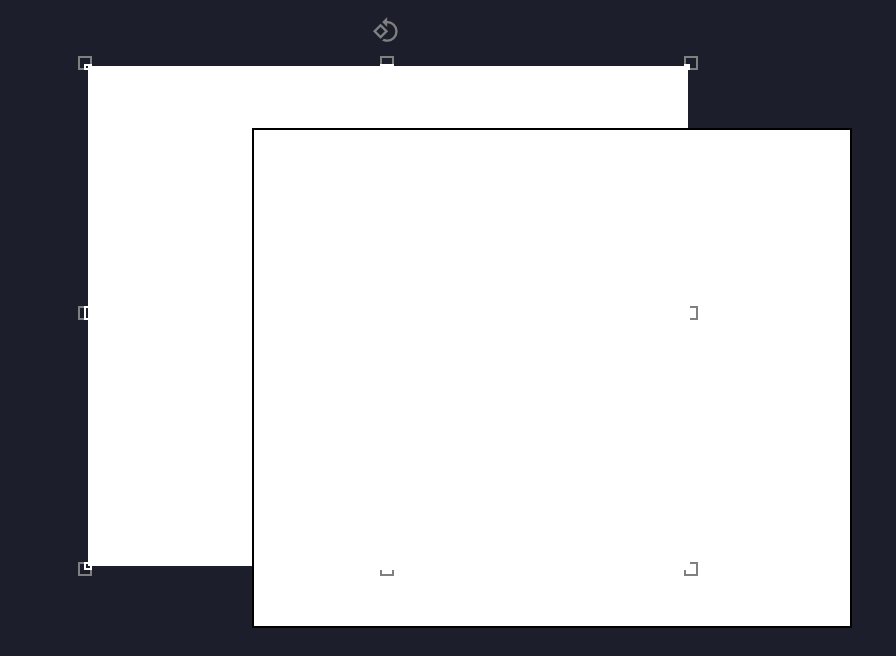 With the placeholder selected, you'll see VPAID Tag in the properties panel to the right of the Builder.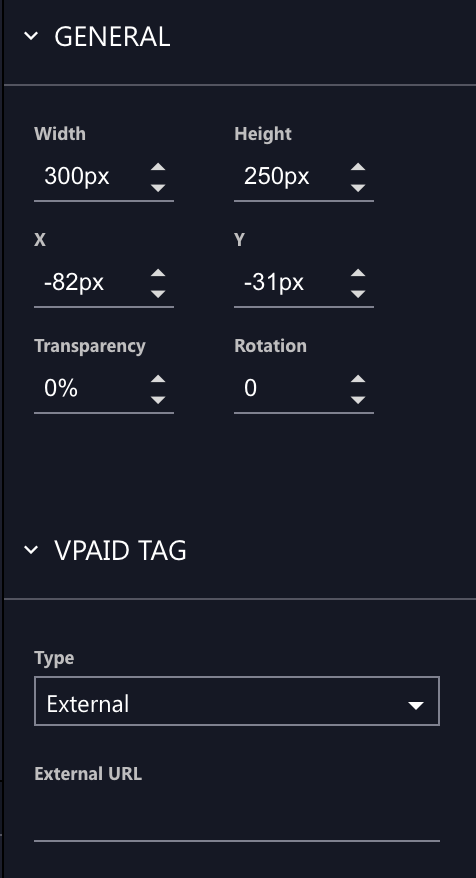 Choose from the "Type" Dropdown: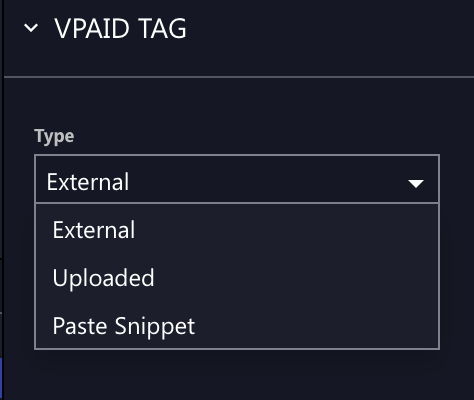 External – choose if you have an external VPaid url – paste url into External URL field: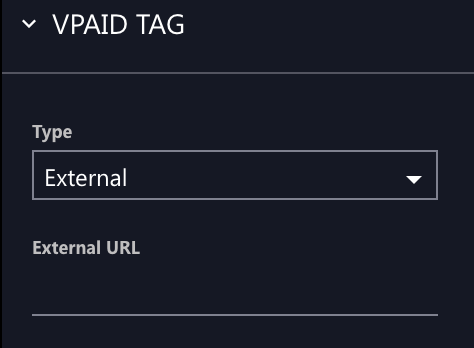 Uploaded – choose if you have a file to upload – then click Upload VPAID Tag and select your file: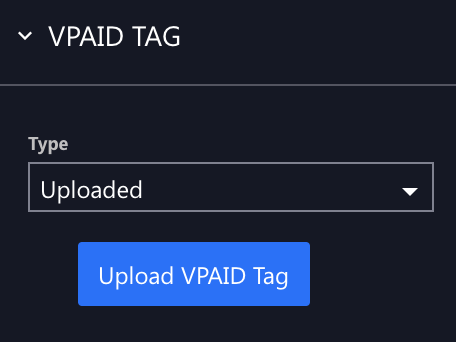 Paste Snippet – choose if you have an advertiser-provided VPAID tag – then click Open Snippet Editor and paste entire tag into the editor and click Submit: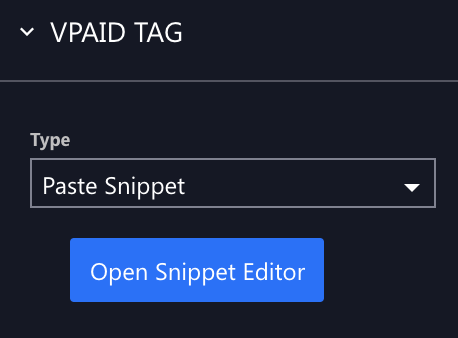 Your VPAID ad will load in the 300x250 frame.
* You can also test your tag for any errors with Google's Vast inspector: https://developers.google.com/interactive-media-ads/docs/sdks/html5/vastinspector
Errors can occur when either the encoding or decoding of a URI was not successful. You should ensure that any special characters in your URI strings are encoded correctly.
Move and resize the placeholder by click/dragging or using the General Properties width and height to the right of the builder.
Default clickthrough URLs will not override VPAID files so you'll want to add a Hitbox over the ad to ensure users can click through.
If using the Snippet Editor for a tag and clickthrough data is already embedded in the tag, but you want to also track clicks in Adventive, you'll need to add a Hitbox over the entire unit and add the default url/clicktracker from the campaign manager. *You will not need to extract the impression tracker from the file/do not add under 3rd party tracking as it will already be embedded in the tag, and to avoid counting twice.
Click on the Hitbox icon

in the Tools Section (left side of the builder). You'll now see a blue transparent box appear in the top left of your ad - You can move this box as well as resize either with your mouse, or using the Width/Height in the General section (top right of screen).
For this Hitbox, you do not need to set an Action as it will take the viewer to the default clickthrough url.
You can add additional Hitboxes to other areas of the ad.
Also see Hitbox and Actions articles.
Save the ad.
Go to the Preview icon

to view the ad.