Fully responsive, between page, or roadblock overlay unit
Resources:
Explore our Ad Gallery for examples of this format
In this article, you will learn:
How to build an Interstitial unit
How to configure Interstitial unit properties
How to build an Interstitial unit
Below you will find a step-by-step process to build an Interstitial unit.
Provide a unique Name for the unit, and select Interstitial from the Format dropdown
Define your initial ad dimensions (or select one of Adventive's pre-populated options)
Backup Image (Optional) and Click URL (Optional) may be left blank at this time, click Submit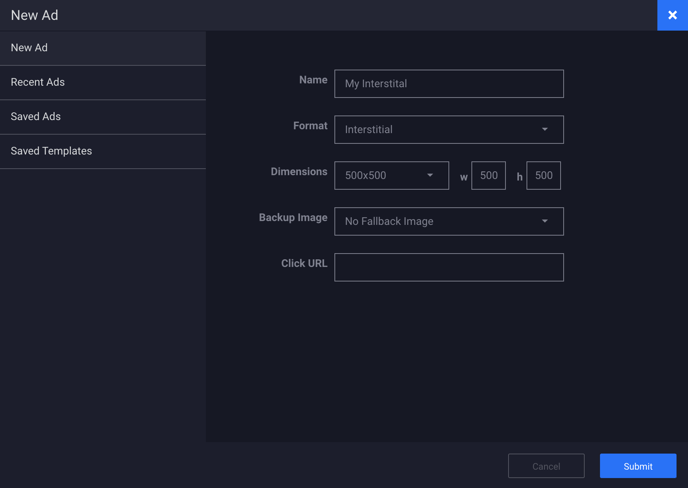 Configuring the canvas
The builder will now load the main Interstitial canvas based on the dimensions inputted in step #2. You may now place your ad content and creatives
Configuring the General Ad Properties
Modifications can easily be made to the general ad configuration using the General Ad Properties panel on the right-hand side of the builder window. See this article for instructions on configuring the General Ad Properties.
How to configure the Interstitial units properties
The Interstitial properties configuration options are explained below:
Mobile Orientation Lock

None - There is no orientation requirement

Portrait - The user must have a device oriented in portrait mode, otherwise they will see a "Please rotate your device" alert

Landscape - The user must have a device oriented in landscape mode, otherwise they will see a "Please rotate your device" alert

Roadblock
Prevents the user from navigating past the ad unit – hides the close button for a set number of seconds
Show Only Once
Select to show ad only once per day
Background Color
Background Color
Gradient
Background Gradient Color & Rotation
Background Transparency
Level of transparency on the background
Disable Background
Disables the main content background forcing the interaction with the interstitial
Hide Close Button
When selected, the default "X" and close button are hidden
Close Button Icon
Upload a custom button icon
Close on Timer
When configured, the interstitial will automatically close after the specified amount of time
Close on Click Through
Closes the interstitial when a user clicks through

Mobile Orientation Lock Example: