Adventive automatically creates a unique tag for each ad group or individual ad in an ad campaign. Adventive's tag generator allows you to export the right first-party tag format, ensuring ads are distributed with the appropriate tag settings.
Within your Advertiser, Select Campaigns in the Adventive Dashboard:
Within your Advertiser, Select
Campaigns
in the Adventive Dashboard:

Set up your Campaign.
Tags can be exported at the Campaign, Site, Placement or ad unit/ad group level.
Campaign-Level: Export all campaign tags
Site-Level: Export tags for a given site
Placement-Level: Export all tags for a given placement
Ad Unit/Ad Group-Level: Export an individual tag for a single ad unit or ad group.
To generate tags, select Export Tags from the Actions drop down menu.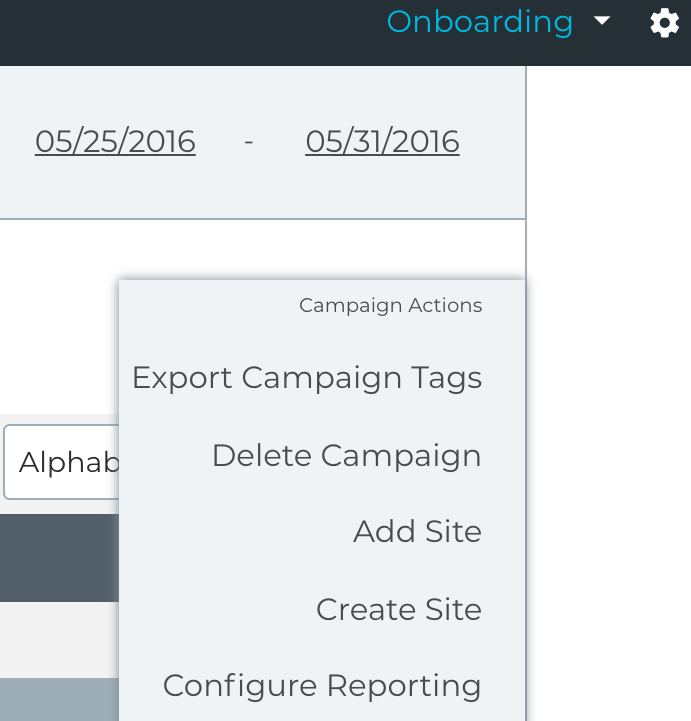 Select an ad server or trafficking platform
Adventive supports all major first-party ad servers. If your vendor is not listed, select Generic Tag. If you require a specific tag format, please contact support@adventive.com.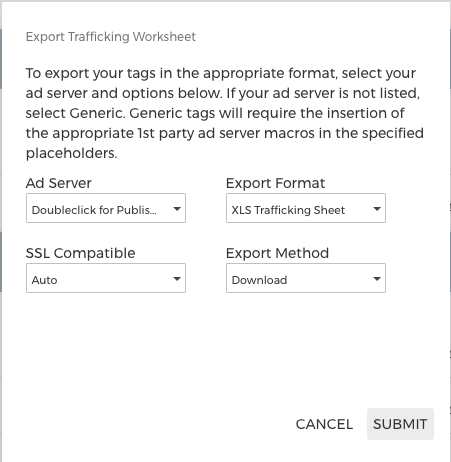 AdGear, AdTech, Adzerk, AppNexus, Centro Basis, Console, Doubleclick for Advertisers, Doubleclick for Publishers, dstillery, Mocean, Open AdStream, OpenX, Simpli.fi, Site Scout, Smart, * TradeDesk, MediaMath, etc.:

Adventive will automatically insert the appropriate macros and cachebusters into the code snippet for the 1st party ad server tag. (For example, if you select DFP, DFP tags are formatted to include %% and %%CLICK_URL_ESC_ESC%% macros.)
* Trade Desk Bulk Import now available - If The Trade Desk is selected as the Ad Server when exporting tags, your trafficking sheet will automatically be formatted for TTD bulk import.
Generic Tag
Generic tags contain placeholder macros for cache buster and click URL. Replace RANDOM_NUMBER and CLICK_TRACKER with your required cache buster and click URL macros.


Select an Export Format
Excel XLS, CSV or Text file.
* If exporting as an Excel file - be sure to double click into the cell to select the tag for copy/paste into your 1st party ad server.
SSL Compatible
Adventive will automatically select the proper tag depending on where the ad is being served.
Export Method
Choose Download or Email method for how trafficking sheet should be delivered - if email, type in the email address in the "Email to" field: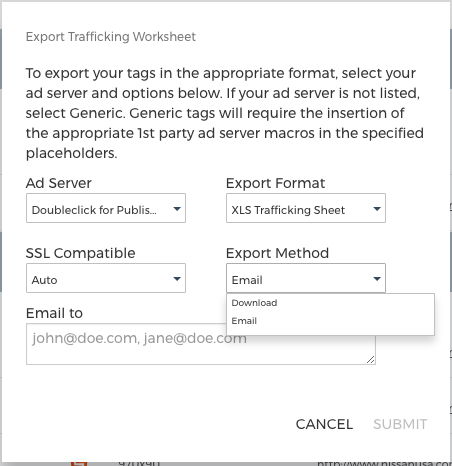 Note: Third-Party Tracking Macros
If your first party ad server does not provide tools to integrate third-party tracking macros, they can be added just after the closing script tag </script>.
Example of XLS Trafficking Sheet: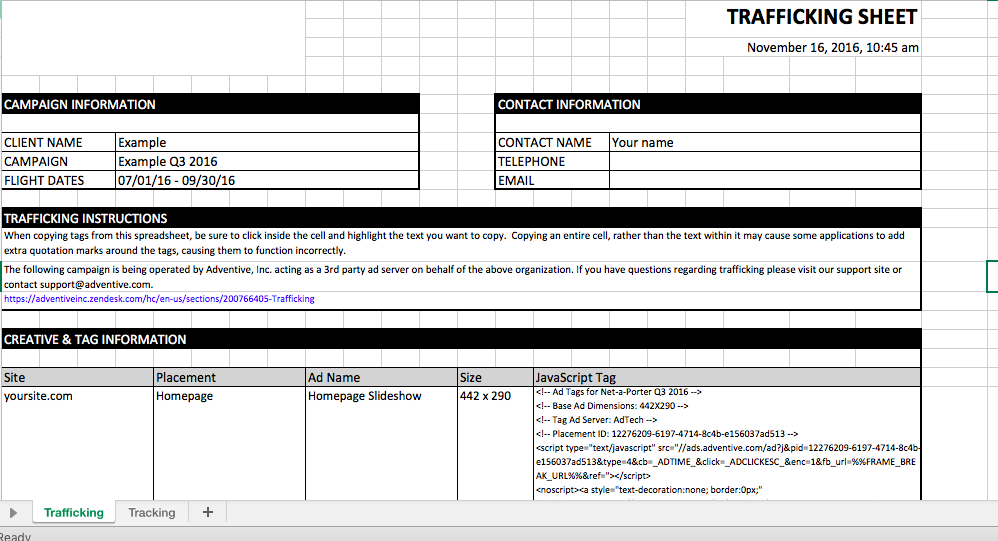 Note: There are 2 tabs:
Trafficking: Shows the site, placement, ad name, size, and tag.
Tracking (if Third Party tracking was added): Shows the site, placement, ad name, tracking type, report label, action, url tracker.