A quick guide to understanding the anatomy of the Adventive Ad Builder
In this article, you will learn:
An overview of the Ad Builder
Ad Builder Overview
Designed to mimic popular creative development tools, Adventive's Ad Builder provides an intuitive, powerful interface to quickly design and implement rich media ad units. The following section outlines the main components of the Ad Builder and their purpose.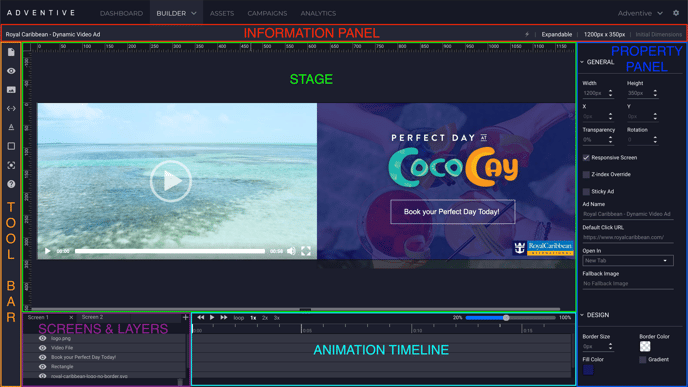 Information Panel
The information panel provides general information about the open ad unit. At a glance, you can see the ad name, the format and initial dimensions.
Toolbar
The toolbar, located to the far left of the screen contains several icons which control various functions of the builder. Below is an explanation of each of the toolbar controls:
File Menu
Create new or open existing ads or templates

Preview
Opens a new tab with a preview of the ad unit. This link can be sent to anyone for ad unit review or approval

Assets
Upload new assets, or insert existing assets into your current ad build

Components
Native, pre-built and configuration rich media integrations to enhance your ad build

Text
Inserts a text object onto the ad stage
Shapes
Inserts a shape object onto the ad stage
Hitbox
Inserts a hitbox object onto the ad stage. A Hitbox is a transparent layer than can be added over any element to provide additional click, hover or other events or actions
Animate
Opens Adventive's animation tools. This option will not be displayed in the toolbar menu unless an object which can be animated is selected on the stage
Help
Opens Adventive's knowledge base and support chat widget

Stage
The stage is the main window used to visualize the development of the ad unit. Adventive's drag-and-drop builder allows all of the elements on the stage to be positioned and resized individually. Clicking on any element on the stage will open properties associated with the selected element.
Property Panel
The property panel is a context-aware set of controls, that will automatically update with the properties that can be manipulated give the selected element or component. Clicking off of any element, or outside of the stage area will reveal the general ad properties.
Screens & Layers
Screens & Layers provides a visual representation of the elements on the ad unit and the relative position of each of the layers for each screen contained within the ad unit. Clicking any of the layers will highlight and that element on the stage. Clicking the any of the Screen tabs will change the builder to that screen.
Add a new layer
Layer visible
Layer invisible
Layer contains an animation
Delete layer
Animation Timeline
The animation timeline provides a visual representation of any animation that may be applied to an element on the stage.